Site Sales at BSA Discover Outpost @ Woodfield Mall
Units from the Northwest Suburban, Des Plaines Valley, Chicago Area and Calumet Councils are invited to sell popcorn at the BSA Discovery Outpost at Woodfield Mall!
The Discovery Outpost is located on the first floor of Woodfield Mall near Macy's.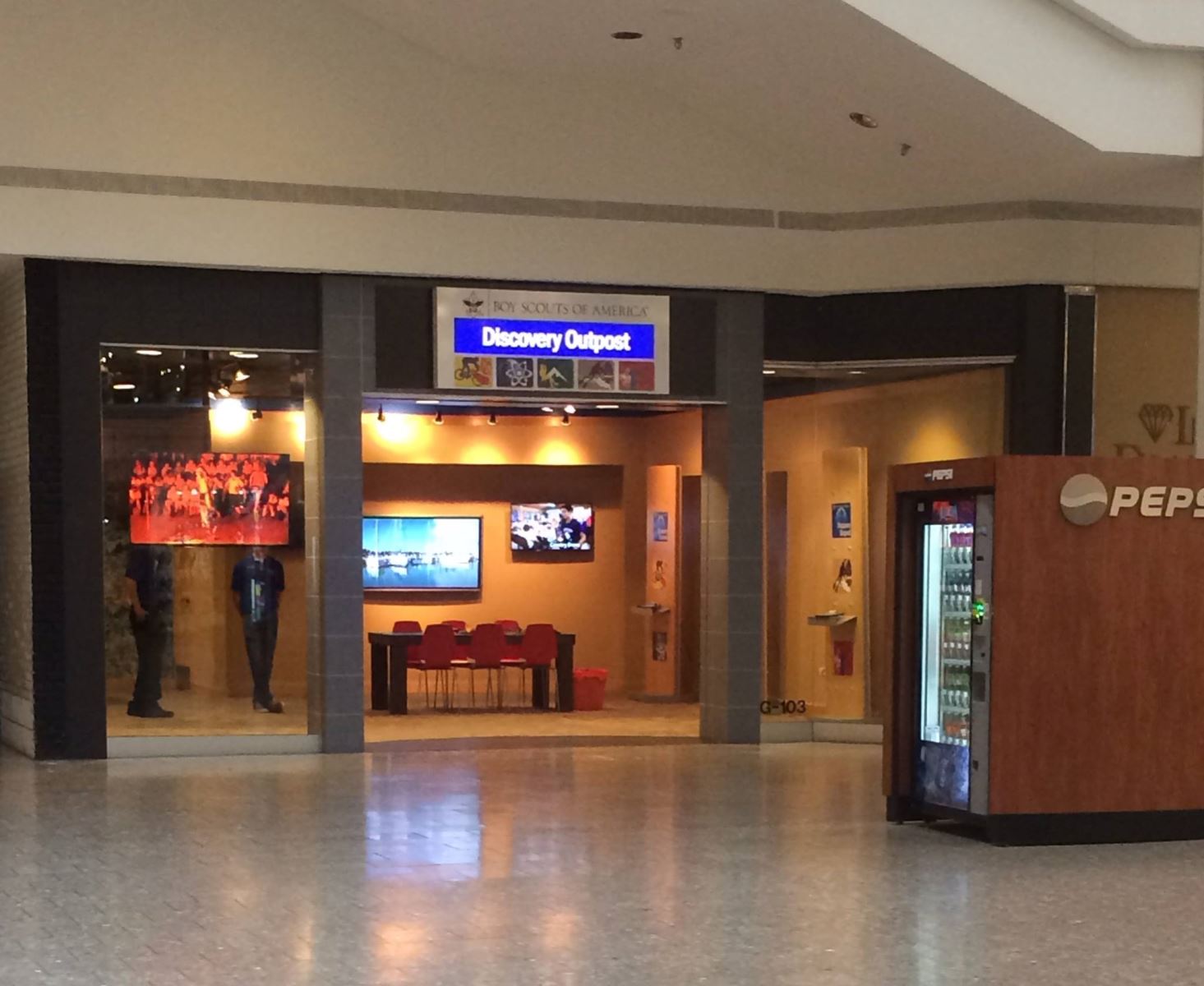 Each time slot for unit site sales will be filled on first-come, first-served basis. Each of the slots can accommodate one (1) unit with up to 6 people (2 adults and 4 youth). Units may sign up for consecutive slots if they are able to staff each them, for a maximum of three slots total for each unit.
Units signing up to sell at the Outpost are asked to:
Limit your "staff" to six (6) people (2 adults, and up to 4 youth).
Provide your own two-deep leadership and supervise your Scouts at all times. Scouts must be well-behaved as they are representing Scouting to the entire mall.
Create age-appropriate shifts for the Scouts during each of your unit's time slots. Cub Scouts: 1-2 hours, Boy Scouts: 2-3 hours.
Bring your own inventory of Show & Sell popcorn and facilitate all financial transactions.
Have all leaders and Scouts in Class A uniform or matching Class B shirts.
Bring a visual display of the activities your unit participates in throughout the year. This could consist of a poster board, photo album, and/or sample crafts and activities such as pinewood derby cars, etc. This will be used to show your customer what their popcorn purchase supports and to showcase what Scouting is to other Outpost visitors.
Units that do not follow these rules may be asked to leave by store management.
Time slots are available from Sunday, September 14 - Friday, October 24. Available slots vary by day and are as follows:
Sundays: 11am-2:30pm, 2:30pm-6pm
Monday-Friday: 5pm-9pm
Saturdays: 10am-1:30pm, 1:30pm-5:30pm, 5:30pm-9pm
If you are signing up for a weekend slot your unit must be able to staff the entire time the slot is scheduled for. If you are signing up for a weekday slot, we understand that you may not be able to arrive right at 5pm or stay until 9pm. Please let us know if you will be arriving late or leaving early during the registration process when prompted.
When registering for a slot, you must enter your "group" or unit information and "reserve a block of time" in order to proceed to checkout. There is no cost to reserve your spot, but you must complete the entire checkout process in order for your reservation to be saved.
You will receive a confirmation "receipt" from Northwest Suburban Council.
If you have any questions regarding registration, please contact Shayna Hofmeister at 847-824-6906.